Kathleen was one of Accept Care's superstar home support workers for the last ten years, but unfortunately for us, she retired recently. We will miss her dearly, but we are excited for her as she embarks on this next stage of life. We had a morning tea to celebrate her retirement and to give her a gift as a token of our appreciation for her hard work over the years.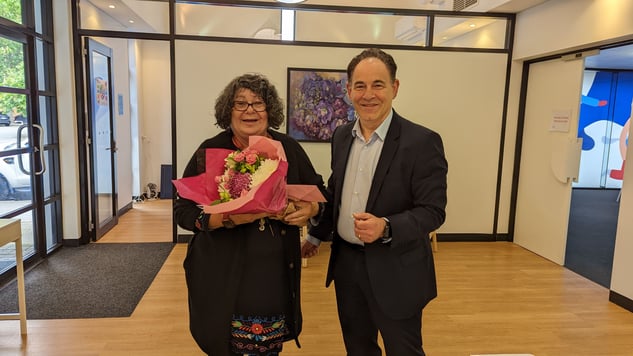 What you wouldn't know about Kathleen from her picture is that she has a hearing impairment and wears a hearing aid. She uses her hearing aid, combined with lip reading, to communicate with people who can hear. She has graciously completed her job with an added barrier and has shown up with great enthusiasm and work ethic over the last decade.
When the pandemic hit and everybody had to start wearing masks, we all had to adapt to a new way of life. Kathleen had an added challenge with the face masks as she struggled to understand clients she worked with because she could no longer see their mouths when they spoke. It was important that we found a way around this so she could communicate effectively and carry out her duties safely and confidently. We were able to source and order clear face masks for Kathleen, the clients she worked with, and any workers who she worked side by side with, which enabled her to continue delivering excellence in her work.
Kathleen's husband also lives with a hearing impairment, and they met when they were 17 on a snow trip with other youths from the deaf community. They grew up quite differently as Kathleen was born into a hearing family and is oral deaf, which is when a person is born deaf or becomes deaf before learning to speak, but they are taught to speak and may not typically use Sign Language. Her husband was born into a non-hearing family which meant that he learnt to communicate using sign language. Funnily enough, Kathleen says she isn't very good at sign language!
Kathleen loves to crochet; in fact, she can do it without watching and could spend hours crocheting. She very sweetly brought a big pile of impressively made blankets into the office to share with our staff.
We asked Kathleen some questions about her career and retirement…
What inspired you to work in the aged and disability industry?
I was looking after my aunty, who had dementia and had also suffered a stroke, and I had cared for my elderly father for 24 years after mum died. I wanted to help other people like my dad and aunty. Before having kids, I was working as a comptometrist, which doesn't exist anymore but I essentially operated calculating machines and checked the figures before they were entered into the General Ledger. This was before desktop computers were invented and computers were big wall units.
What sort of services do you do for us?
I do most of the services Accept offers such as cleaning, domestic care, respite, social support and personal care.
What was your favourite thing about being a home support worker?
Meeting people and having good relationships with many of my clients. I have empathy for them, and we would often enjoy a cuppa together. I especially like to work with people with mental health issues. I like to make them talk and laugh, I joke with them, and it helps them a lot.
Did you encounter challenges associated with being deaf?
There have been times when it's been hard to communicate, like when my clients have their heads down or are facing the other way when they speak to me.
How do you feel approaching this next stage of life and leaving work?
I'm sad and excited. I would love to keep working but I need to prioritise my health now and my husband wants to spend more time with me as he is retired too. I've enjoyed my sleep-ins but I have a few clients who I will really miss as I have formed a special bond with them.
What are your retirement plans?
I would like to take more holidays and do more of my hobbies like painting, artwork, meeting up with friends for coffee and of course, crocheting. We would love to go to England, France and New Zealand.
Enjoy your well-deserved break and best of luck for the future Kathleen. We look forward to seeing what crochet masterpieces you come up with next!