Lauren is our Customer Service Team Manager. Our Customer Service Team are the friendly voice you hear on the other end of the phone when you call Accept Care, and they are always ready to help. They are responsible for allocating Home Support Workers to client's services and ensuring our clients are happy and their needs are met. Lauren is pregnant with her second child so she will be taking a short, well-deserved "break" later this year. Hear more from her below.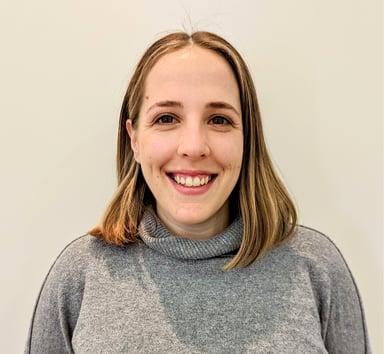 Tell us a bit about yourself, your interests and your work background.
My husband and I have a one-and-a-half-year-old son named Parker and a 2-year old Airedale Terrier named Gunner. Some of my interests are cooking and spending time with my family. After high school I completed a Bachelor of Health Science and Nutrition because I have a general interest in health and wellbeing and promoting healthy lifestyles. I planned to do a post-grad degree in health promotion but wanted to take a break from study first.
I was volunteering at OPAL (Obesity Prevention and Lifestyle), which addresses obesity in children, for a couple of years to gain industry experience. Unfortunately, the funding for health promotion got cut and there weren't any jobs available in that field. I then did a post-grad in Health Administration because I wanted to gain business and leadership skills, and this led to me working at Sprout and setting up the Allied Health department.
After 6 years I was keen for a change but still wanted to work within the health industry, so I took on the role of Rostering Customer Service Coordinator with Accept Care.
What attracted you to working in the aged and disability sector?
I still wanted to make an impact in people's lives and provide assistance without having the direct involvement, as I didn't have the relevant qualifications, so this was the perfect place for me to make my mark.
How long have you worked at Accept Care?
I've worked here for three years and moved into leadership after about 4 months. We had a smaller team and it's grown a lot since then, as has the entire company.
Describe your role at Accept Care.
I oversee the customer service team and provide support to them, as well as the NDIS and HCP team, so you'll often see me doing laps of the office and liaising with the various departments. We've also been busy facilitating the transition to our new software program, Lumary. Lumary will have better functionality and help us provide a better, streamlined service. It will essentially make our jobs easier and more efficient, so we're keen to implement that soon.
What do you love most about your job?
Our team! We have a great, dedicated group of people working here, who bring their best and have fun together. I enjoy building relations and engaging with the support workers where I can and listening to their stories.
How would you describe the team you work with?
Fun, supportive, compassionate, and willing to help.
What is your greatest accomplishment with Accept Care?
We started with a very small team, so I've enjoyed growing and developing the team. We've recently had a couple of our customer service coordinators get internally promoted; one to a Direct Care Coordinator with the NDIS team, and the other to a Home Care Package (HCP) Coordinator. It's great to see people developing and advancing, and I'm always learning and growing as a manager too.
If you would like to work with Accept Care, visit our website for more information and check our current Seek advertisements for other open vacancies.