Meet Merryl, one of our amazing home support workers. Merryl has always had a caring personality, having owned her own home day care business for 20 years before working in aged care. She spoke with us about her love for her job and the wisdom we can learn from listening, read more below.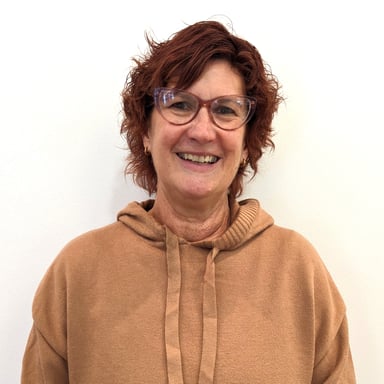 How long have you worked for Accept Care?
I have worked approximately 2 years with Accept Care as a home support worker.
What was your work experience before working as a home support worker?
I ran my own home day care business for over 20 years, but spanning over 30 years - I had a break in the middle and worked in the retail sector. I really enjoyed my years in childcare, definitely keeps the child in you alive. I actually did a full circle with some of the children later placing their children in my care. I have a wonderful ongoing relationship with most of my families.
What inspired you to enter the aged and disability care industry?
I moved to Adelaide from Alice Springs in 2021 to help my then 88 year old dad, and it was this and some friends who worked in the industry that swayed me to give it a try.
What is your favourite thing about your job?
To be able to help individuals maintain a relatively normal life and achieve things they may not have been otherwise been able to do.
What are your favourite things to do with your clients?
I really enjoy social support with my elderly clients, the interesting life stories they tell me really fascinate me. Going out for a coffee or beach walk or helping them with their shopping, doing activities that make them happy makes me happy.
How would you describe your role in 5 words?
Rewarding, interesting, hard work (someday more than others), fun and caregiving.
What have you learnt from working with vulnerable people/the aged and disability community?
That my clients are awesome individuals with interesting lives to share with you, that some days can be happy and some can be heartbreaking.
What advice would you give to someone considering working in the aged and disability care industry?
That it can be such a rewarding and fulfilling career. Also to go to work each day with a positive mind set, always be prepared for changes to your day, and remember to "listen" to your clients, they often have a wealth of knowledge and interesting life stories to share with you...and smile smile smile.
What are your hobbies and interest outside of work?
Arts and crafts of all kinds, I'm always trying something new. Gardening, cooking, reading a good book, camping, photography, and enjoying the company of good friends, family and my 2 fur babies Charlie and Molly.
Merryl is just one of our passionate and dedicated home support workers who can provide assistance around the home, social support and more. Call our office on 8251 5186 to find out how we can help you live independently.