Rima is the General Manager, NDIS and has been with Accept Care for five years. In that time, Rima has been instrumental in the development and growth of the Accept Disability department. Rima has successfully led the team through multiple independent quality audits to obtain and maintain National Disability Insurance Scheme registration.
Rima manages a team of nine wonderful and compassionate personnel who are based in our Lightsview office. They all share a genuine passion for delivering quality, person-centred, recovery-oriented services to empower people in the community living with disability and/or mental illness to live their best life as determined by them.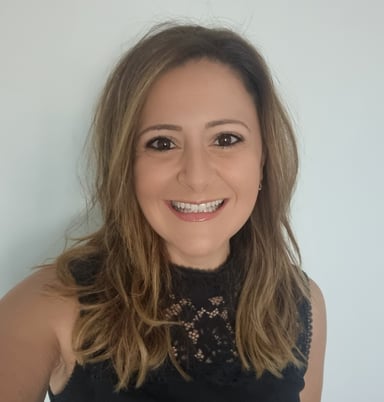 Tell us a bit about yourself, your hobbies and interests.
I love travelling, reading, writing, and learning. I have been fortunate to see many parts of this beautiful world and experience life in different cultures. I have an interest in real life crime documentaries and psychological thrillers and have a gift of picking the story line before the end.
What was your professional background prior to working for Accept Care?
I have a Graduate Diploma in Psychology, a Master's Degree of Social Work and an Advanced Diploma of Community Sector Management. I have over 10 years of experience working in the community services sector serving primarily in executive roles, providing transformative coaching and mentoring to individuals and teams, and enhancing overall business performance whilst ensuring excellence in service delivery.
What inspired you to work in the disability sector?
I have the lived experience of caring and supporting people living with mental illness. Over the years, I have witnessed the unfortunate injustice, mistreatment and system inadequacies of the community service sector which can lead to intended and unintended consequences to the most vulnerable people in our community. My choice to work in this sector was a natural one, I was drawn to this area of practice with the belief that to make change you need to be the change!
What do you love about your role?
Sharing the journey! In this role I am blessed and honoured to be provided with the opportunity to build relationships with people, to hear their stories and to walk alongside them to ensure they feel empowered, have the strategies they need, and are supported to be the best version of themselves.
How do you think the NDIS has changed the lives of the disabled community?
The NDIS has given individuals living with disability and mental illness the power to make decisions and access services and supports based on their individual needs. Through the NDIS people are considered the experts of their own life and they are provided with the means to make choices and take action they need to live their best life.
How can Accept Care help people who are covered under the NDIS?
Accept Care offers a range of services to people that have a NDIS plan.
Direct care to assist with activities of daily living
Support coordination to support with navigating the NDIS world and get the best out of the NDIS plan
Psychosocial recovery coaching to assist in overcoming the barriers faced when living with mental illness, and
Allied health services, including nursing support, physiotherapy, occupational therapy and counselling.
If you have an NDIS plan and would like to find out more about how we can assist you, please contact the Accept Differently Abled team on 8251 5186. If you would like more information on how to apply for an NDIS plan, please do not hesitate to call us.