Our clients, Valerie and David, celebrated their 64th wedding anniversary last week and what an amazing milestone for them! Our home support worker, Jess, sees the couple regularly and found out their wedding anniversary was coming up. Jess very sweetly suggested that she take them out to lunch for their service so they may celebrate. It looks like it was a lovely day, and we are so grateful that Jess went the extra mile to make their day extra special.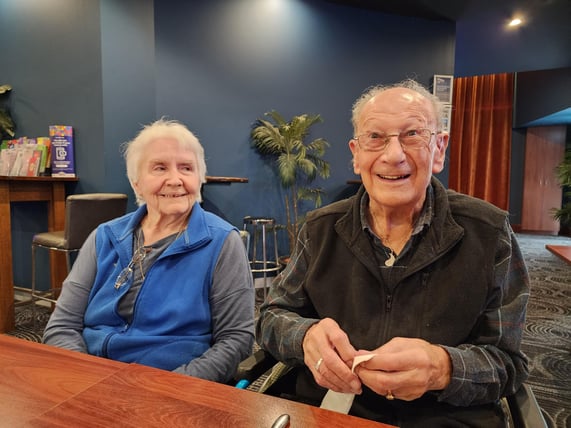 Valerie was happy to share some memories of the wonderful life she and David had together, as she joked that they are 'past their expiry date'. Her stories provide an insight into how different life used to be, including how married women were not allowed to work, how people would write letters to communicate with loved ones overseas, and there being no childcare available back then.
When they met
Valerie and David met in England when she was 15 years old, and he was 24 years old. They were both attending ballroom dancing classes by themselves, and David asked Valerie to dance. Valerie thought David was younger than he was, and David thought Valerie was older than she was. In fact, during the break, David took Valerie to the pub across the road for a drink, not knowing she was underage and that he was breaking the law!
Valerie remembers her first impressions of David; he was very nice and she liked him, and he was handsome of course. Her mum would watch out the window to make sure he was a gentleman with Valerie, and he was. As they walked down the footpath, he would walk on Valerie's right side to protect her from cars.
Ballroom dancing had worked so well for David and Valerie that they decided to set up some of their friends the same way. Valerie persuaded her school friend, who she has known since she was 11, to join them and David invited his best friend along. The two hit it off and were later married. They still live in England and stay in touch with David and Valerie after all these years, evolving from writing letters to using the internet to communicate now.
And the rest is history..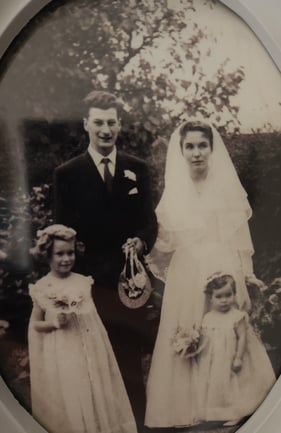 Valerie and David were married 3 years later and at the time, you had to be at least 21 years old to get married. Valerie was underage so her parents needed to sign off on their marriage. Her parents told them that once they had kids, they wouldn't be able to afford a house, so they wouldn't sign the papers until David and Valerie had saved up for a house deposit.
Valerie remembers David had been saving up for a sailing boat. She thought it was funny he wanted to buy a boat because he didn't know how to swim (her father later taught David). He never got that boat; it seems there was something more important to put the money towards! When Valerie got married in 1958, she left the Commonwealth Bank because married women weren't allowed to work there.
Their life together
Valerie and David had three children, who are now aged 62, 55 and 45 years old. They weren't expecting the last one (a beautiful surprise) but as Valerie said, 'family planning wasn't that good in that day, you see'. They also have five grandchildren and one great grandchild.
The couple moved to Australia in 1973 and Valerie did not return to work as they had two children and childcare was non-existent. Instead, she would volunteer at the school regularly, and do ironing and cleaning in people's homes. She made sure to write at least one letter a week to her mum in England.
David worked as a draftsman when they came to Australia but decided to try a different career when he was 40. He went back to evening class two nights per week and became a building and health inspector. Valerie remembers helping type up his documents and struggling to spell words like staphylococcus at 1am!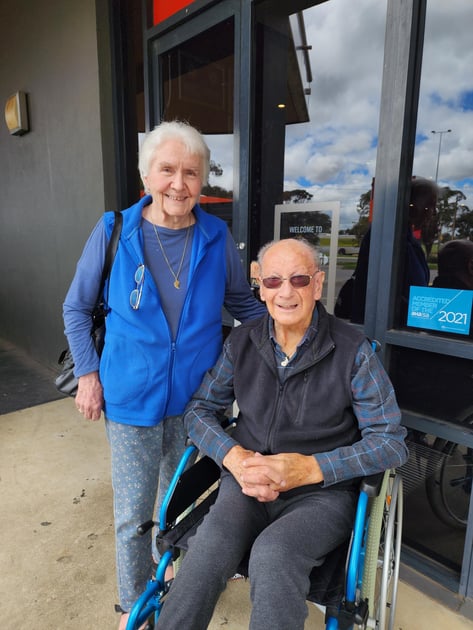 Their relationship
The couple rarely argue, have a similar sense of humour, and can always laugh at themselves, which is Valerie's favourite thing about David. She also admires his ability to compromise, or in Valerie's words 'he's always prepared to give a bit'. She described him as a sweet man and explained that in those times, most men didn't do things around house, but David did. She remembers when she was unwell once and doing some ironing. She didn't feel well and asked David to unplug the iron as she was going to bed, and he responded saying he would be up soon. In the morning she awoke to all the ironing finished and neatly folded, with the iron and ironing board put away.
They enjoyed fishing and dancing together, though they were never any good at the tango. Now, they read a lot and spend time together at home. Valerie cares for David, who has some balance and memory issues, with Accept Care's assistance.
Advice for younger couples
When asked what advice she would give young, married couples, Valerie responded saying, 'Have a decent engagement and get to know each other properly. Work out things like money and so on, how much housekeeping, that's what we did.' We think that's solid advice from someone with a pretty good track record!